This is my opinion.  I probably shouldn't complain; it isn't my money;I've been discussing the virtues of new TLDs for several years.  I've never suggested that there are no drawbacks.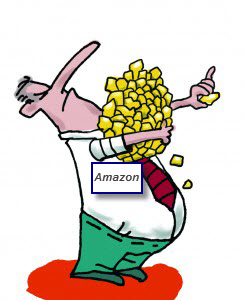 Today I have a complaint.  Amazon is applying for seventy-six new TLDs and showing no indication that they plan to offer them to the public.  This is sad; and it's a step backwards for the Internet if they are awarded these.  It shows the worst face of intellectual property abuse; hoarding an entire set of important language terms for the sole use of one company; at least that's how it appears.
I recall reading how some of the largest companies in the world continually lobby lawmakers for stricter laws to  protect intellectually property, then lobby to get intellectual property rights (for corporations) extended for decades, and then lobby equipment manufacturers to limit the abilities of computers, VCRs, and DVD players to make copies.  In essence, these corporations are tightening nooses around the public domain.
I recently wrote to defend Amazon when they were criticized for not paying sales taxes in the state of California.  I thought they were defending rights, not just for themselves, but for smaller ecommerce businesses as well. But then they went along and struck a deal with the state of California that will help them; and leave small ecommerce players in the dust.
I'm beginning to feel that I was wrong about Amazon.  Amazon is applying for some of their popular brands including .amazon, .zappos, and .aws.  But, it appears, they are planning to maintain the right to keep all of these other strings to themselves:
APP, AUTHOR, BOOK, BOT, BOX, BUY, CALL, CIRCLE, CLOUD, COUPON, DEAL, DEV, DRIVE, FAST, FIRE, FREE, GAME, GOT, GROUP, HOT, JOT, JOY, KIDS, LIKE, MAIL, MAP, MOBILE, MOVIE, MUSIC, NEWS, NOW, PAY, PIN, PLAY, PRIME, READ, ROOM, SAFE, SAVE, SEARCH, SECURE, SHOP, SHOW, SILK, SMILE, SONG, SPOT, STORE, TALK, TUNES, TUSHU, VIDEO, WOW, YOU, YUN, ZERO
My view is that this is sad; and a mistake; that if Amazon plays it this way, it will not just be a step backwards for the Internet, but a step backwards for Amazon.  Someone called it a walled garden and that is the same kind of thinking that has done in other large Internet players in the past (think AOL).
My view of progress for Internet naming would be where applicants open the name space to as many others as possible.  It's like comparing capitalism to communism and history shows us what wins.  I'm pleased to say that most of our applicants (besides the clear brands) are going to offer their new TLDs to the public.
By the way, there is no doubt that Amazon has the right to do this by the rules of the applicant guidebook. If they win these TLDs, they'll be in a good position.  The Internet name space is like wireless spectrum; very valuable! There is a limited "spectrum" within the English language; and an even more limited spectrum of words that represent valuable business concepts.  Amazon is applying for a bunch of them.  I'm just hoping that other applicants (who plan to offer them to the public at large) will win.  Go CentralNic! Go Donuts, Go Google, Go TLDH, Go Uniregistry and most other applicants.  Boo Amazon.
P.S.  Why didn't anyone apply for .IMHO?