Also, how many unique strings could enter the new TLD space by the end of 2013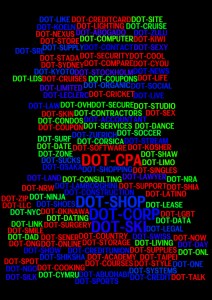 I've been wanting to write this article for a month (since the reveal of new TLDs) but have not had time. Before I begin, my disclaimers:
These are opinions and impressions. I will not be responsible for the accuracy, inclusion, or non-inclusion of any facts. I haven't had time to read through ALL of the applications. If I am wrong about any applications, and if you care, please send me a note and I'll take another look. I don't have a large research staff. Some of the parameters I'm interested in are subjective and many applications fall into more than one category. Also, because I am in the industry and have new TLD applicants, I disclose that it is possible that I have some bias. Regardless, given all of the faults that I can think of herein disclosed, I'm trying to be objective and to contribute some thinking that is for the good of the new TLD space. There you have it.
I've looked at many applications and here are some things that I've observed with differentiators that ICANN really hasn't published numbers on and that I think are helpful considerations. Out of all the new TLD applications, I counted:
895 or so, Standard type applications where the intent seems to be to allow registrants at large, some with restrictions, to register domain names.
114 or so, IDN type applications (Since I don't speak any of the IDN languages, I won't comment much on them).
60 or so, Geographic type applications
64 or so, Community applications, with the idea that registrations will be restricted to certain "community" members.
709 or so, Brand type applications, where the applicant has a famous brand they are claiming to the right of the dot.
88 or so, are seemingly, "Trying to Corner a TLD Market space" applications, where an applicant's brand or trademark rights are not so obvious (I'll discuss more about this below).
What Do I Mean By Trying To Corner The Market In A New TLD Space?
Although I don't want to judge any company for wanting to maximize profits, I do think that there is a form of abuse going on where some larger corporations are trying to corner the market in TLD spaces that are broader than their trademarks. I believe this is worth examining very critically and it is being discussed elsewhere. The biggest examples are in the Amazon applications where they apply for strings like .BOOK and .AUTHOR with the stated intent of using it only for their company or for their own clients. L'Oreal is applying for .BEAUTY with the expressed intent of:
"operating the .BEAUTY gTLD with a narrow focus and charter which L'Oreal will take the lead in establishing…leveraging its corporate experience in networking with existing businesses, affiliates, partners, and customers, and marketing its products and brands through these third party partnerships…a business model in which generic ("personal," "sustainable," "products," "model," "cosmetics," "perfumes," etc.) and geographic (city/state) domain names would initially be reserved/allocated to L'Oréal."
The application goes on to suggest that they may consider expanding the use to other registrants but makes no commitment towards that direction. Amazon's .BOOK application is even more blatantly inward focused, stating the following:
"The mission of the .BOOK registry is:
To provide a unique and dedicated platform for Amazon while simultaneously protecting the integrity of its brand and reputation."
I like Amazon and I buy stuff from them. I'm pretty sure that my wife uses a few L'Oreal products. But if I were an author, bookseller, or in the beauty industry, I'd be very concerned right now. In fact, all registries, registrars and registrants are stakeholders and should be concerned when one company makes a blatant attempt at cornering a generic market such as the book or beauty industry especially on as broad a scale as Amazon seems to be attempting. These types of applications should be highly suspect; giving very generic rights to single stakeholders in important global marketplaces.
If ICANN is to maintain any credibility, they need to look seriously at these types of applications. This does not foster competition which is at the very core of ICANN's charter and which should be at the core of the new TLD process.
References:
Amazon's .book application: http://gtldresult.icann.org/application-result/applicationstatus/applicationdetails:downloadapplication/1027?t:ac=1027
L'Oreal's .beauty application: http://gtldresult.icann.org/application-result/applicationstatus/applicationdetails:downloadapplication/992?t:ac=992
663 or so, are unique new strings. This includes Standard, Cornering the Market types, Geos, and Communities (not including IDNs & Brand types). The number of unique new TLD strings can give us a feel for how many possible new TLDs we will eventually end up with (regardless of who actually runs them). Surely, some of these will not make it through evaluation or will be struck down by objections of various sorts. There are many that could face legal battles that go on for years. But it is theoretically possible that as many as 600+ new TLDs will enter the market within the next few years. Just put a dot (.) in front of each text string below. Here is that list (de duplicated):
ABOGADO | ABUDHABI | ACADEMY | ACCOUNTANT | ACCOUNTANTS | ACO | ACTOR | ADAC | ADS | ADULT | AFRICA | AGENCY | ALSACE | AMSTERDAM | AND | APARTMENTS | APP | AQUITAINE | ARAB | ARCHI | ARCHITECT | ARE | ART |  ASSOCIATES | ATTORNEY | AUCTION | AUDI | AUDIBLE | AUDIO | AUSPOST | AUTHOR | AUTO | AUTOS | AWS | BABY | BAND | BANK | BAR | BARCELONA | BAREFOOT | BARGAINS | BASEBALL | BASKETBALL | BAYERN | BBB | BEAUTY | BEER | BERLIN | BEST | BET | BIBLE | BID | BIKE | BINGO | BIO | BLACK | BLACKFRIDAY | BLOG | BLUE | BOATS | BOO | BOOK | BOSTON | BOT | BOUTIQUE | BOX | BROADWAY | BROKER | BRUSSELS | BUDAPEST | BUGATTI | BUILD | BUILDERS | BUSINESS | BUY | BUZZ | BWAY | BZH | CAB | CAFE | CAL | CALL | CAM | CAMERA | CAMP | CAPETOWN | CAPITAL | CAR | CARDS | CARE | CAREER | CAREERS | CARS | CASA | CASH | CASINO | CATALONIA | CATERING | CATHOLIC | CENTER | CEO | CFD | CHANNEL | CHARITY | CHAT | CHEAP | CHRISTMAS | CHURCH | CIRCLE | CITY | CLAIMS | CLEANING | CLICK | CLINIC | CLOTHING | CLOUD | CLUB | COACH | CODES | COFFEE | COLLEGE | COLOGNE | COMMUNITY | COMPANY | COMPARE | COMPUTER | CONDOS | CONSTRUCTION | CONSULTING | CONTACT | CONTRACTORS | COOKING | COOL | CORP | CORSICA | COUNTRY | COUPON | COUPONS | COURSES | CPA | CPA | CREDIT | CREDITCARD | CREDITUNION | CRICKET | CRUISE | CRUISES | CYMRU | CYOU | DAD | DANCE | DATA | DATE | DATING | DAY | DCLK | DDS | DEAL | DEALER | DEALS | DEGREE | DELIVERY | DEMOCRAT | DENTAL | DENTIST | DESI | DESIGN | DEV | DIAMONDS | DIET | DIGITAL | DIRECT | DIRECTORY | DISCOUNT | DIY | DOCS | DOCTOR | DOG | DOHA | DOMAINS | DOT | DOTAFRICA | DOWNLOAD | DRIVE | DUBAI | DURBAN | EARTH | EAT | ECO | EDEKA | EDUCATION | EMAIL | ENERGY | ENGINEER | ENGINEERING | ENTERPRISES | EQUIPMENT | ESQ | EST | ESTATE | EUS | EVENTS | EXCHANGE | EXPERT | EXPOSED | EXPRESS | FAIL | FAITH | FAMILY | FAN | FANS | FARM | FASHION | FAST | FEEDBACK | FILM | FINANCE | FINANCIAL | FINANCIALAID | FIRE | FISH | FISHING | FIT | FITNESS | FLIGHTS | FLORIST | FLOWERS | FLY | FOO | FOOD | FOOTBALL | FORSALE | FORUM | FOUNDATION | FREE | FRL | FUN | FUND | FURNITURE | FUTBOL | FYI | GAL | GALLERY | GAME | GAMES | GARDEN | GAY | GEA | GED | GENT | GGEE | GIFT | GIFTS | GIVES | GLASS | GLE | GLOBAL | GMBH | GMBH | GMX | GOLD | GOLF | GOP | GOT | GRAPHICS | GRATIS | GREE | GREEN | GRIPE | GROCERY | GROUP | GUIDE | GUITARS | GURU | HAIR | HALAL | HAMBURG | HANGOUT | HAUS | HEALTH | HEALTHCARE | HELP | HELSINKI | HERE | HIPHOP | HOCKEY | HOLDINGS | HOLIDAY | HOME | HOMES | HORSE | HOSPITAL | HOST | HOSTING | HOT | HOTEL | HOUSE | HOW | ICU | IEEE | IKANO | IMDB | IMMO | IMMOBILIEN | INC | INDUSTRIES | ING | INK | INSTITUTE | INSURANCE | INSURE | INTERNATIONAL | INVESTMENTS | IRA | IRISH | ISLAM | ISMAILI | IST | ISTANBUL | JEWELRY | JIO | JOBURG | JOT | JOY | JUEGOS | KAUFEN | KID | KIDS | KINDLE | KITCHEN | KIWI | KOELN | KOSHER | KYOTO | LAMBORGHINI | LAND | LATINO | LAW | LAWYER | LDS | LEASE | LECLERC | LEGAL | LGBT | LIFE | LIGHTING | LIKE | LIMITED | LIMO | LINK | LIVE | LIVING | LLC |  LLP | LOAN | LOANS | LOL | LONDON | LOTTO | LOVE | LTD | LTDA | LUXE | LUXURY | MADRID | MAIL | MAISON | MAKEUP | MANAGEMENT | MAP | MARKET | MARKETING | MARKETS | MBA | MED | MEDIA | MEDICAL | MEET | MELBOURNE | MEME | MEMORIAL | MEN | MENU | MEO | MERCK | MIAMI | MLS | MMA | MOBILE | MOBILY | MODA | MOI | MOM | MONEY | MORMON | MORTGAGE | MOSCOW | MOTO | MOTORCYCLES | MOV | MOVIE | MUSIC | MUSIC | MUTUALFUNDS | NAGOYA | NATIONWIDE | NAVY | NETWORK | NEW | NEWS | NEXUS | NGO | NINJA | NOW | NRA | NRW | NYC | OKINAWA | ONE | ONG | ONL | ONLINE | ORGANIC | OSAKA | OVH | PAGE | PARIS | PARS | PARTNERS | PARTS | PARTY | PAY | PERSIANGULF | PET | PETS | PHD | PHONE | PHOTO | PHOTOGRAPHY | PHOTOS | PICS | PICTURES | PID | PIN | PING | PINK | PIZZA | PLACE | PLAY | PLUMBING | PLUS | POKER | POLITIE | PORN | PRESS | PRIME | PROD | PRODUCTIONS | PROF | PROMO | PROPERTIES | PROPERTY | PUB | QUEBEC | RACING | RADIO | RADIO | READ | REALESTATE | REALTY | RECIPES | RED | REHAB | REISEN | REIT | RENT | RENTALS | REPAIR | REPORT | REPUBLICAN | REST | RESTAURANT | RETIREMENT | REVIEW | REVIEWS | RICH | RIO | RIP | ROCKS | RODEO | ROMA | ROOM | RSVP | RUGBY | RUN | RYUKYU | SAARLAND | SAFE | SALE | SALON | SAPO | SARL | SAVE | SCHOOL | SCHULE | SCIENCE | SCOT | SEARCH | SECURE | SECURITY | SENER | SERVICES | SEX | SEXY | SHAW | SHIA | SHIKSHA | SHOES | SHOP | SHOPPING | SHOW | SILK | SINGLES | SITE | SKI | SKIN | SMILE | SOCCER | SOCIAL | SOFTWARE | SOLAR | SOLUTIONS | SONG | SOY | SPA | SPACE | SPORT | SPORTS | SPOT | SRL | STADA | STOCKHOLM | STORAGE | STORE | STREAM | STUDIO | STYLE | SUCKS | SUPPLIES | SUPPLY | SUPPORT | SURF | SURGERY | SWISS | SYDNEY | SYSTEMS | TAIPEI | TALK | TARGET | TATAR | TATTOO | TAX | TAXI | TEAM | TECH | TECHNOLOGY | TENNIS | THAI | THEATER | THEATRE | TICKETS | TIENDA | TIPS | TIRES | TIROL | TODAY | TOKYO | TOOLS | TOUR | TOURS | TOWN | TOYS | TRADE | TRADING | TRAINING | TUBE | TUNES | TUSHU | UNIVERSITY | UNO | VACATIONS | VEGAS | VENTURES | VERSICHERUNG | VET | VIAJES | VIDEO | VILLAS | VIN | VIP | VISION | VLAANDEREN | VODKA | VOTE | VOTING | VOTO | VOYAGE | WALES | WANG | WANGGOU | WATCH | WATCHES | WEATHER | WEB | WEBCAM | WEBS | WEBSITE | WED | WEDDING | WHOSWHO | WIEN | WIKI | WIN | WINE | WORK | WORKS | WORLD | WOW | WTF | XYZ | YACHTS | YAMAXUN | YELLOWPAGES | YOGA | YOKOHAMA | YOU | YOUTUBE | YUN | ZAPPOS | ZERO | ZIP | ZONE | ZUERICH | ZULU |