What New Domain Names Will Be Released First?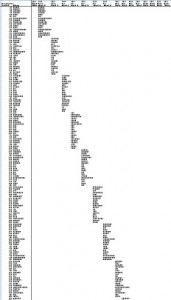 [UPDATE: I've had some feedback to this and realize that I've not accounted any time for Contract Negotiations, and  Pre-delegation Testing.  That could easily add about 3-4 months to the estimates I have below.  When I get more time I'll update the dates.]
ICANN has indicated that they would like to begin rolling out new gTLDs in 2013 and that they are capable of rolling out about 20 TLDs per week.
I've put together a spreadsheet that can help you to visualize how this might  look over the coming 18 months including the general order of TLDs released on a week by week basis. This is based on the prioritization draw and a set of ideal presumptions.  I don't discuss much about IDNs since I can't understand them, I'm not really into them, and we all know they will come first anyway. I do account for them in the timeline however.
Below are my (very generous 🙂 ) assumptions:
That no TLDs will be released before the April, 2013 ICANN meeting.
That evaluations & contracting goes well (fingers crossed).
That TLDs are released in the general order of priority.
That TLDs in contention will be prioritized based on the

highest/last number pull in the contention set

and that contention is resolved in reasonable time (contention and auctions will likely add delays but most strings are not in contention).
If these things happen and no other land mines go off in the process then we could possibly see new TLDs released according to the schedule in my spreadsheet.
Take a look at the video and screen shots below.  If you'd like a copy of the full spreadsheet, send me an email using my contact form.  I've done this primarily for our own use but am happy to share it with friends that write to me (I am not responsible for mistakes and/or omissions though).
—
Joe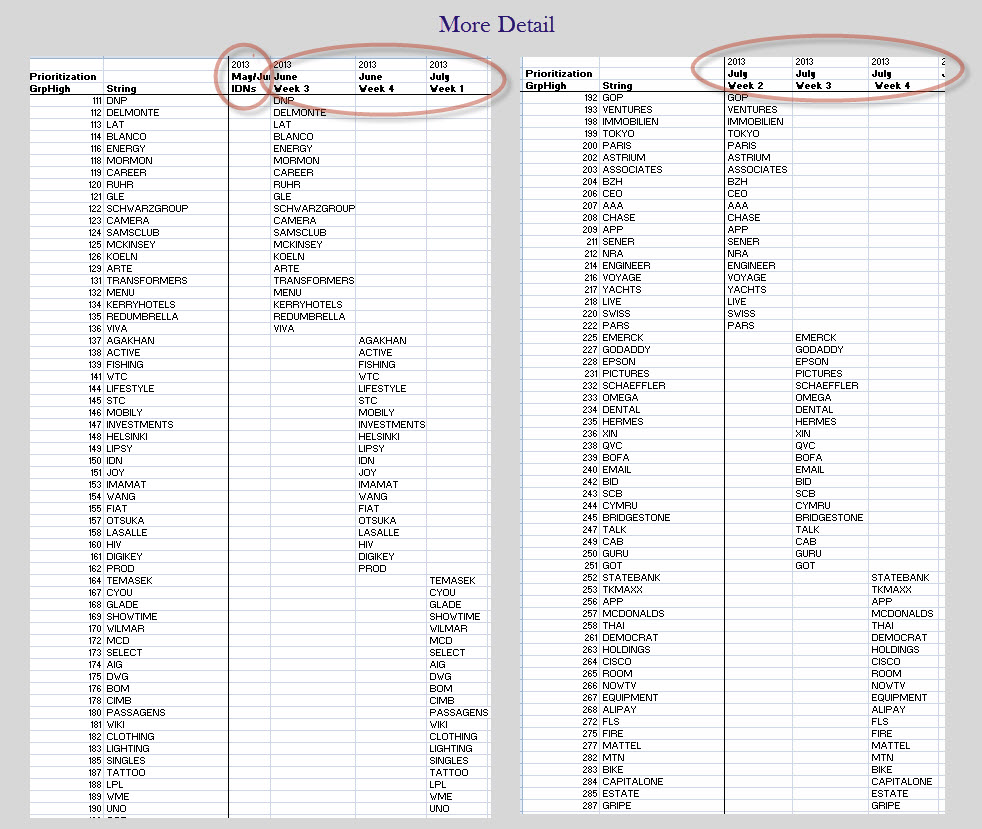 Note: The spreadsheet is just a speculative post meant for fun but, I think, useful too.  I put this together as best I could with the information and time available to me.  Please don't rely on this for any important planning. I've already found a few mistakes and ICANN is famous for delays and stoppages that can occur in this process. If enough people are interested, I'll make the full spread available for download.  Below is my reading through end of 2013:
TOP DRAW  |    STRING        |    POSS. DATE(S)
(Note: IDNs would be before any of these)
111    |    DNP        |    23-Jun
112    |    DELMONTE    |    23-Jun
113    |    LAT        |    23-Jun
114    |    BLANCO        |    23-Jun
116    |    ENERGY        |    23-Jun
118    |    MORMON        |    23-Jun
119    |    CAREER        |    23-Jun
120    |    RUHR        |    23-Jun
121    |    GLE        |    23-Jun
122    |    SCHWARZGROUP    |    23-Jun
123    |    CAMERA        |    23-Jun
124    |    SAMSCLUB    |    23-Jun
125    |    MCKINSEY    |    23-Jun
126    |    KOELN        |    23-Jun
129    |    ARTE        |    23-Jun
131    |    TRANSFORMERS    |    23-Jun
132    |    MENU        |    23-Jun
134    |    KERRYHOTELS    |    23-Jun
135    |    REDUMBRELLA    |    23-Jun
136    |    VIVA        |    23-Jun
137    |    AGAKHAN        |    30-Jun
138    |    ACTIVE        |    30-Jun
139    |    FISHING        |    30-Jun
141    |    WTC        |    30-Jun
144    |    LIFESTYLE    |    30-Jun
145    |    STC        |    30-Jun
146    |    MOBILY        |    30-Jun
147    |    INVESTMENTS    |    30-Jun
148    |    HELSINKI    |    30-Jun
149    |    LIPSY        |    30-Jun
150    |    IDN        |    30-Jun
151    |    JOY        |    30-Jun
153    |    IMAMAT        |    30-Jun
154    |    WANG        |    30-Jun
155    |    FIAT        |    30-Jun
157    |    OTSUKA        |    30-Jun
158    |    LASALLE        |    30-Jun
160    |    HIV        |    30-Jun
161    |    DIGIKEY        |    30-Jun
162    |    PROD        |    30-Jun
164    |    TEMASEK        |    7-Jul
167    |    CYOU        |    7-Jul
168    |    GLADE        |    7-Jul
169    |    SHOWTIME    |    7-Jul
170    |    WILMAR        |    7-Jul
172    |    MCD        |    7-Jul
173    |    SELECT        |    7-Jul
174    |    AIG        |    7-Jul
175    |    DWG        |    7-Jul
176    |    BOM        |    7-Jul
178    |    CIMB        |    7-Jul
180    |    PASSAGENS    |    7-Jul
181    |    WIKI        |    7-Jul
182    |    CLOTHING    |    7-Jul
183    |    LIGHTING    |    7-Jul
185    |    SINGLES        |    7-Jul
187    |    TATTOO        |    7-Jul
188    |    LPL        |    7-Jul
189    |    WME        |    7-Jul
190    |    UNO        |    7-Jul
192    |    GOP        |    14-Jul
193    |    VENTURES    |    14-Jul
198    |    IMMOBILIEN    |    14-Jul
199    |    TOKYO        |    14-Jul
200    |    PARIS        |    14-Jul
202    |    ASTRIUM        |    14-Jul
203    |    ASSOCIATES    |    14-Jul
204    |    BZH        |    14-Jul
206    |    CEO        |    14-Jul
207    |    AAA        |    14-Jul
208    |    CHASE        |    14-Jul
211    |    SENER        |    14-Jul
212    |    NRA        |    14-Jul
214    |    ENGINEER    |    14-Jul
216    |    VOYAGE        |    14-Jul
217    |    YACHTS        |    14-Jul
218    |    LIVE        |    14-Jul
220    |    SWISS        |    14-Jul
222    |    PARS        |    14-Jul
225    |    EMERCK        |    21-Jul
227    |    GODADDY        |    21-Jul
228    |    EPSON        |    21-Jul
231    |    PICTURES    |    21-Jul
232    |    SCHAEFFLER    |    21-Jul
233    |    OMEGA        |    21-Jul
234    |    DENTAL        |    21-Jul
235    |    HERMES        |    21-Jul
236    |    XIN        |    21-Jul
238    |    QVC        |    21-Jul
239    |    BOFA        |    21-Jul
240    |    EMAIL        |    21-Jul
242    |    BID        |    21-Jul
243    |    SCB        |    21-Jul
244    |    CYMRU        |    21-Jul
245    |    BRIDGESTONE    |    21-Jul
247    |    TALK        |    21-Jul
249    |    CAB        |    21-Jul
250    |    GURU        |    21-Jul
251    |    GOT        |    21-Jul
252    |    STATEBANK    |    28-Jul
253    |    TKMAXX        |    28-Jul
257    |    MCDONALDS    |    28-Jul
258    |    THAI        |    28-Jul
261    |    DEMOCRAT    |    28-Jul
263    |    HOLDINGS    |    28-Jul
264    |    CISCO        |    28-Jul
265    |    ROOM        |    28-Jul
266    |    NOWTV        |    28-Jul
267    |    EQUIPMENT    |    28-Jul
268    |    ALIPAY        |    28-Jul
272    |    FLS        |    28-Jul
275    |    FIRE        |    28-Jul
277    |    MATTEL        |    28-Jul
282    |    MTN        |    28-Jul
283    |    BIKE        |    28-Jul
284    |    CAPITALONE    |    28-Jul
285    |    ESTATE        |    28-Jul
287    |    GRIPE        |    28-Jul
288    |    BUDAPEST    |    4-Aug
289    |    NASPERS        |    4-Aug
293    |    XBOX        |    4-Aug
294    |    OKINAWA        |    4-Aug
296    |    VIRGIN        |    4-Aug
298    |    DELL        |    4-Aug
301    |    DUNS        |    4-Aug
302    |    TRAVELGUARD    |    4-Aug
303    |    DURBAN        |    4-Aug
306    |    SAFETY        |    4-Aug
310    |    CODES        |    4-Aug
311    |    ITAU        |    4-Aug
313    |    FOREX        |    4-Aug
314    |    AXA        |    4-Aug
316    |    COACH        |    4-Aug
317    |    HGTV        |    4-Aug
318    |    OLAYANGROUP    |    4-Aug
319    |    CONTRACTORS    |    4-Aug
321    |    ESURANCE    |    4-Aug
322    |    DOCOMO        |    11-Aug
323    |    TALK        |    11-Aug
325    |    WEBCAM        |    11-Aug
326    |    BUSINESS    |    11-Aug
329    |    CAL        |    11-Aug
331    |    KIWI        |    11-Aug
333    |    WARMAN        |    11-Aug
336    |    SILK        |    11-Aug
337    |    ONL        |    11-Aug
338    |    MONASH        |    11-Aug
339    |    AIRFORCE    |    11-Aug
340    |    HOTELS        |    11-Aug
341    |    GUIDE        |    11-Aug
343    |    PLUMBING    |    11-Aug
345    |    WOLTERSKLUWER    |    11-Aug
346    |    CENTER        |    11-Aug
349    |    STUDY        |    11-Aug
350    |    MELBOURNE    |    11-Aug
351    |    BBC        |    11-Aug
352    |    LOTTE        |    11-Aug
353    |    SURGERY        |    18-Aug
355    |    JLL        |    18-Aug
356    |    SOY        |    18-Aug
360    |    REISEN        |    18-Aug
361    |    VANGUARD    |    18-Aug
363    |    ANALYTICS    |    18-Aug
364    |    HOW        |    18-Aug
365    |    VERSICHERUNG    |    18-Aug
366    |    WINNERS        |    18-Aug
367    |    RIGHTATHOME    |    18-Aug
368    |    YAMAXUN        |    18-Aug
369    |    BNL        |    18-Aug
370    |    ISELECT        |    18-Aug
372    |    LAND        |    18-Aug
373    |    SEXY        |    18-Aug
375    |    AMERICANEXPRESS    |    18-Aug
376    |    PRAXI        |    18-Aug
377    |    BAUHAUS        |    18-Aug
378    |    CBA        |    18-Aug
379    |    MANAGEMENT    |    18-Aug
380    |    YANDEX        |    25-Aug
381    |    HUGHES        |    25-Aug
382    |    BMW        |    25-Aug
383    |    MNET        |    25-Aug
385    |    CHROME        |    25-Aug
386    |    SKYDRIVE    |    25-Aug
387    |    UNIVERSITY    |    25-Aug
389    |    MEO        |    25-Aug
390    |    SCJOHNSON    |    25-Aug
391    |    PHARMACY    |    25-Aug
392    |    ADS        |    25-Aug
394    |    SYSTEMS        |    25-Aug
395    |    STROKE        |    25-Aug
398    |    SHANGRILA    |    25-Aug
400    |    RUGBY        |    25-Aug
401    |    AUDIBLE        |    25-Aug
408    |    MSD        |    25-Aug
409    |    NEUSTAR        |    25-Aug
412    |    LEASE        |    25-Aug
416    |    OLDNAVY        |    25-Aug
417    |    PIN        |    1-Sep
419    |    CFD        |    1-Sep
422    |    PETS        |    1-Sep
423    |    BERLIN        |    1-Sep
425    |    MOVISTAR    |    1-Sep
426    |    ROCHER        |    1-Sep
427    |    GRAPHICS    |    1-Sep
431    |    WIEN        |    1-Sep
432    |    TECHNOLOGY    |    1-Sep
433    |    PIONEER        |    1-Sep
434    |    LANCIA        |    1-Sep
435    |    REVIEWS        |    1-Sep
436    |    EXTRASPACE    |    1-Sep
437    |    GRAINGER    |    1-Sep
440    |    MOV        |    1-Sep
441    |    SOLUTIONS    |    1-Sep
442    |    GENTING        |    1-Sep
444    |    SMILE        |    1-Sep
445    |    TJMAXX        |    1-Sep
446    |    HOTMAIL        |    1-Sep
447    |    PRAMERICA    |    8-Sep
451    |    ICBC        |    8-Sep
454    |    TRAVELCHANNEL    |    8-Sep
455    |    AKDN        |    8-Sep
456    |    ECOM        |    8-Sep
459    |    WEDDING        |    8-Sep
463    |    LOFT        |    8-Sep
465    |    NYC        |    8-Sep
468    |    HOMEGOODS    |    8-Sep
469    |    AWS        |    8-Sep
470    |    MRMUSCLE    |    8-Sep
474    |    FUJIXEROX    |    8-Sep
475    |    MICROSOFT    |    8-Sep
476    |    CREDITUNION    |    8-Sep
478    |    KIM        |    8-Sep
479    |    CHESAPEAKE    |    8-Sep
482    |    TJX        |    8-Sep
484    |    CARAVAN        |    8-Sep
486    |    MINI        |    8-Sep
488    |    AUTOS        |    8-Sep
489    |    AFAMILYCOMPANY    |    15-Sep
490    |    DEAL        |    15-Sep
496    |    GALLERY        |    15-Sep
497    |    TORAY        |    15-Sep
498    |    YOUTUBE        |    15-Sep
499    |    KINDLE        |    15-Sep
501    |    CAREERS        |    15-Sep
502    |    POLO        |    15-Sep
504    |    BRADESCO    |    15-Sep
505    |    HOMEDEPOT    |    15-Sep
506    |    MRPORTER    |    15-Sep
507    |    SBI        |    15-Sep
509    |    OBSERVER    |    15-Sep
510    |    SKI        |    15-Sep
511    |    DANCE        |    15-Sep
513    |    BLUE        |    15-Sep
515    |    MARKET        |    15-Sep
517    |    TOUR        |    15-Sep
518    |    IWC        |    15-Sep
519    |    GEORGE        |    15-Sep
520    |    PINK        |    22-Sep
521    |    FOX        |    22-Sep
522    |    SPIEGEL        |    22-Sep
523    |    REISE        |    22-Sep
525    |    KINDER        |    22-Sep
526    |    HOTEIS        |    22-Sep
527    |    VIKING        |    22-Sep
528    |    NIKE        |    22-Sep
529    |    ARAB        |    22-Sep
532    |    DIAMONDS    |    22-Sep
533    |    NICO        |    22-Sep
534    |    LINK        |    22-Sep
538    |    TICKETS        |    22-Sep
542    |    CHANNEL        |    22-Sep
543    |    JAVA        |    22-Sep
544    |    ACADEMY        |    22-Sep
545    |    NEXUS        |    22-Sep
546    |    ZIPPO        |    22-Sep
548    |    ENTERPRISES    |    22-Sep
549    |    AIRBUS        |    22-Sep
550    |    GOOG        |    29-Sep
551    |    CITY        |    29-Sep
553    |    UMMAH        |    29-Sep
554    |    KIEHLS        |    29-Sep
555    |    SUPPLIES    |    29-Sep
557    |    KRD        |    29-Sep
558    |    FAN        |    29-Sep
559    |    COMPANY        |    29-Sep
562    |    TRAVELERS    |    29-Sep
564    |    ISLAM        |    29-Sep
565    |    NAGOYA        |    29-Sep
566    |    JOBURG        |    29-Sep
567    |    EXCHANGE    |    29-Sep
568    |    DEALER        |    29-Sep
570    |    DIRECTORY    |    29-Sep
572    |    TODAY        |    29-Sep
574    |    KITCHEN        |    29-Sep
575    |    READ        |    29-Sep
576    |    JOT        |    29-Sep
577    |    VODKA        |    29-Sep
578    |    ICU        |    6-Oct
579    |    DOHA        |    6-Oct
580    |    HOSPITAL    |    6-Oct
582    |    THEGUARDIAN    |    6-Oct
583    |    JETZT        |    6-Oct
584    |    BNPPARIBAS    |    6-Oct
585    |    CAPITAL        |    6-Oct
586    |    LOCUS        |    6-Oct
587    |    NATURA        |    6-Oct
588    |    CAMP        |    6-Oct
590    |    PROTECTION    |    6-Oct
593    |    MTPC        |    6-Oct
594    |    GCC        |    6-Oct
596    |    INDIANS        |    6-Oct
597    |    SUPPLY        |    6-Oct
598    |    AMEX        |    6-Oct
599    |    WED        |    6-Oct
600    |    OTT        |    6-Oct
601    |    TVS        |    6-Oct
603    |    AMERICANFAMILY    |    6-Oct
604    |    BOO        |    13-Oct
605    |    MAKEUP        |    13-Oct
607    |    TIPS        |    13-Oct
608    |    AMP        |    13-Oct
609    |    JPMORGAN    |    13-Oct
610    |    KYKNET        |    13-Oct
611    |    DAD        |    13-Oct
612    |    VIVO        |    13-Oct
613    |    KERRYPROPERTIES    |    13-Oct
615    |    EMERSON        |    13-Oct
617    |    LANCASTER    |    13-Oct
618    |    VIN        |    13-Oct
619    |    LOTTO        |    13-Oct
620    |    HOMES        |    13-Oct
621    |    RODEO        |    13-Oct
622    |    GOLDPOINT    |    13-Oct
624    |    NEXT        |    13-Oct
625    |    BLOOMBERG    |    13-Oct
626    |    MODA        |    13-Oct
628    |    SONG        |    13-Oct
629    |    TATA        |    20-Oct
630    |    NRW        |    20-Oct
631    |    ALFAROMEO    |    20-Oct
634    |    PRESS        |    20-Oct
635    |    LONDON        |    20-Oct
637    |    FUTBOL        |    20-Oct
638    |    WINDOWS        |    20-Oct
639    |    WEBJET        |    20-Oct
641    |    SARL        |    20-Oct
644    |    APARTMENTS    |    20-Oct
647    |    ALLSTATE    |    20-Oct
650    |    SOFTWARE    |    20-Oct
651    |    LANXESS        |    20-Oct
652    |    MANGO        |    20-Oct
653    |    FERRARI        |    20-Oct
654    |    COUPON        |    20-Oct
656    |    INFINITI    |    20-Oct
658    |    GEA        |    20-Oct
660    |    ENGINEERING    |    20-Oct
661    |    EPOST        |    20-Oct
662    |    SWIFTCOVER    |    27-Oct
663    |    SVR        |    27-Oct
664    |    COUNTRY        |    27-Oct
665    |    ARMY        |    27-Oct
666    |    WEBER        |    27-Oct
667    |    BROADWAY    |    27-Oct
668    |    MARSHALLS    |    27-Oct
670    |    THEATER        |    27-Oct
671    |    SAMSUNG        |    27-Oct
672    |    FIRMDALE    |    27-Oct
674    |    BOOKING        |    27-Oct
675    |    TAIPEI        |    27-Oct
677    |    TATAMOTORS    |    27-Oct
678    |    GUARDIANMEDIA    |    27-Oct
679    |    KOMATSU        |    27-Oct
681    |    LACAIXA        |    27-Oct
682    |    ABUDHABI    |    27-Oct
686    |    ALIBABA        |    27-Oct
687    |    LOREAL        |    27-Oct
688    |    VISA        |    27-Oct
689    |    LIKE        |    3-Nov
691    |    LGBT        |    3-Nov
694    |    TAX        |    3-Nov
695    |    NIKON        |    3-Nov
696    |    OOO        |    3-Nov
697    |    SONY        |    3-Nov
699    |    CITIC        |    3-Nov
700    |    TRADE        |    3-Nov
702    |    VOTING        |    3-Nov
704    |    REST        |    3-Nov
705    |    PFIZER        |    3-Nov
706    |    MACYS        |    3-Nov
708    |    HANGOUT        |    3-Nov
709    |    CLINIC        |    3-Nov
710    |    BLOCKBUSTER    |    3-Nov
711    |    LIXIL        |    3-Nov
712    |    CBRE        |    3-Nov
715    |    NEW        |    3-Nov
716    |    LILLY        |    3-Nov
717    |    FUND        |    3-Nov
718    |    PRUDENTIAL    |    10-Nov
719    |    TAB        |    10-Nov
720    |    ANQUAN        |    10-Nov
721    |    TUI        |    10-Nov
722    |    SUZUKI        |    10-Nov
727    |    SANDVIK        |    10-Nov
730    |    SOCIAL        |    10-Nov
731    |    SHOES        |    10-Nov
732    |    QPON        |    10-Nov
733    |    SOHU        |    10-Nov
734    |    FEDEX        |    10-Nov
736    |    CASEIH        |    10-Nov
737    |    KETCHUP        |    10-Nov
742    |    GAL        |    10-Nov
745    |    MOE        |    10-Nov
746    |    BUZZ        |    10-Nov
748    |    PROMO        |    10-Nov
750    |    CBN        |    10-Nov
751    |    DHL        |    10-Nov
752    |    ATTORNEY    |    17-Nov
753    |    SPORTS        |    17-Nov
754    |    LEGAL        |    17-Nov
756    |    ACER        |    17-Nov
759    |    OPEN        |    17-Nov
760    |    DDS        |    17-Nov
761    |    CAPETOWN    |    17-Nov
763    |    FURNITURE    |    17-Nov
764    |    TELEFONICA    |    17-Nov
765    |    EUS        |    17-Nov
766    |    CALVINKLEIN    |    17-Nov
767    |    TOYS        |    17-Nov
768    |    EAT        |    17-Nov
770    |    AXIS        |    17-Nov
772    |    REN        |    17-Nov
773    |    CRS        |    17-Nov
775    |    LADBROKES    |    17-Nov
777    |    CALL        |    17-Nov
779    |    SOLAR        |    17-Nov
780    |    SANOFI        |    24-Nov
782    |    TOYOTA        |    24-Nov
783    |    UBANK        |    24-Nov
784    |    CANALPLUS    |    24-Nov
785    |    LEXUS        |    24-Nov
786    |    ROMA        |    24-Nov
790    |    HYUNDAI        |    24-Nov
792    |    ISMAILI        |    24-Nov
794    |    EVERBANK    |    24-Nov
796    |    TRADING        |    24-Nov
799    |    XIHUAN        |    24-Nov
800    |    GRATIS        |    24-Nov
802    |    LATROBE        |    24-Nov
803    |    MAIF        |    24-Nov
804    |    TOWN        |    24-Nov
807    |    WALES        |    24-Nov
808    |    IST        |    24-Nov
809    |    ACCENTURE    |    24-Nov
810    |    ONG        |    24-Nov
812    |    SHOPYOURWAY    |    1-Dec
814    |    VIAJES        |    1-Dec
815    |    DOOSAN        |    1-Dec
816    |    TATAR        |    1-Dec
818    |    FRL        |    1-Dec
820    |    CHK        |    1-Dec
821    |    PRU        |    1-Dec
823    |    MEDICAL        |    1-Dec
824    |    LIMO        |    1-Dec
826    |    MARKETING    |    1-Dec
827    |    OVH        |    1-Dec
828    |    STORAGE        |    1-Dec
829    |    INFY        |    1-Dec
830    |    DESI        |    1-Dec
832    |    DOMAINS        |    1-Dec
833    |    COMPUTER    |    1-Dec
835    |    ZARA        |    1-Dec
836    |    TARGET        |    1-Dec
837    |    PICTET        |    1-Dec
839    |    NBA        |    1-Dec
841    |    GOODHANDS    |    8-Dec
842    |    ING        |    8-Dec
843    |    SLING        |    8-Dec
844    |    MEME        |    8-Dec
845    |    GIVING        |    8-Dec
848    |    NADEX        |    8-Dec
849    |    CREDIT        |    8-Dec
850    |    ONE        |    8-Dec
852    |    HERE        |    8-Dec
854    |    CERN        |    8-Dec
855    |    SALON        |    8-Dec
856    |    NINJA        |    8-Dec
857    |    ZIP        |    8-Dec
858    |    VANA        |    8-Dec
859    |    LANCOME        |    8-Dec
861    |    RECIPES        |    8-Dec
863    |    TEVA        |    8-Dec
866    |    ISTANBUL    |    8-Dec
867    |    GROCERY        |    8-Dec
869    |    BOSTIK        |    8-Dec
870    |    TOTAL        |    15-Dec
873    |    SUPPORT        |    15-Dec
875    |    PHOTOGRAPHY    |    15-Dec
876    |    INFOSYS        |    15-Dec
878    |    BEATS        |    15-Dec
879    |    NOWRUZ        |    15-Dec
880    |    VONS        |    15-Dec
881    |    MOSCOW        |    15-Dec
883    |    GUGE        |    15-Dec
884    |    CAR        |    15-Dec
885    |    FORSALE        |    15-Dec
886    |    HSBC        |    15-Dec
887    |    ENERGY        |    15-Dec
888    |    MAN        |    15-Dec
893    |    GREEN        |    15-Dec
894    |    AETNA        |    15-Dec
896    |    PAYU        |    15-Dec
897    |    POLITIE        |    15-Dec
899    |    ZULU        |    15-Dec
901    |    BAIDU        |    15-Dec
902    |    MOTORCYCLES    |    22-Dec
904    |    BANANAREPUBLIC    |    22-Dec
905    |    ALLFINANZBERATUNG |    22-Dec
906    |    SHIKSHA        |    22-Dec
907    |    TOP        |    22-Dec
908    |    BIO        |    22-Dec
909    |    REPUBLICAN    |    22-Dec
910    |    AOL        |    22-Dec
912    |    NAVY        |    22-Dec
913    |    STAPLES        |    22-Dec
915    |    JCB        |    22-Dec
916    |    PHOTOS        |    22-Dec
923    |    FILM        |    22-Dec
927    |    GARNIER        |    22-Dec
928    |    IBM        |    22-Dec
929    |    PHYSIO        |    22-Dec
930    |    HTC        |    22-Dec
931    |    POHL        |    22-Dec
932    |    CHANEL        |    22-Dec
933    |    GDN        |    29-Dec
934    |    UBS        |    29-Dec
935    |    SECURE        |    29-Dec
937    |    VANISH        |    29-Dec
938    |    WOODSIDE    |    29-Dec
939    |    ULTRABOOK    |    29-Dec
947    |    COFFEE        |    29-Dec
948    |    APPLE        |    29-Dec
949    |    COMPARE        |    29-Dec
950    |    MARKETS        |    29-Dec
951    |    MAYBELLINE    |    29-Dec
952    |    SCHULE        |    29-Dec
953    |    FITNESS        |    29-Dec
954    |    COURSES        |    29-Dec
956    |    DISCOVER    |    29-Dec
957    |    SPREADBETTING    |    29-Dec
958    |    NGO        |    29-Dec
959    |    CBS        |    29-Dec
961    |    SUPERSPORT    |    29-Dec
963    |    DRIVE        |    29-Dec