I'm really excited to see an official charting of the dollars spent in the United States on advertising and broken up by media.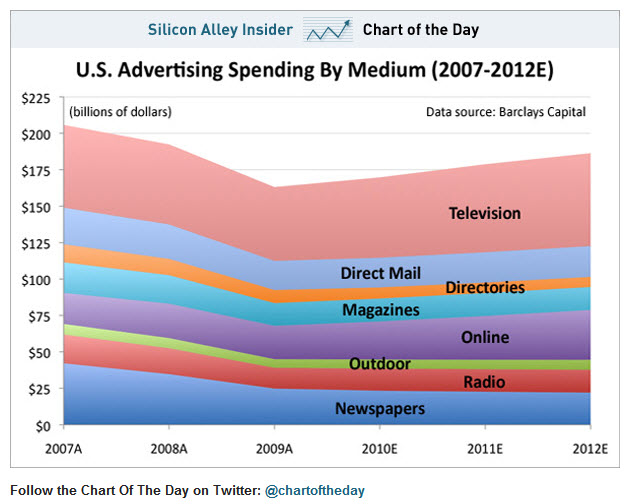 This report by Barclays Capital and put out by the Silicon Valley Insider collaborates my white paper on how brands can use new TLDs to stop cybersquatting. I've believed for a long time that brands have unintentionally empowered their bitter enemies, the cyber-squatters, for years by advertising their .com domains.
When they stop this practice and begin advertising their own TLDs, they will make it more difficult for cyber-squatters to dilute their brands. If you'd like a copy of my white paper on how brands can stop cyber-squatting with new TLDs, contact me.
P.S. To my many & dear domainer friends:  Cyber-squatters are those who buy domains that emulate brands or who buy close brand typos, not those who buy & develop generic domain names.  I believe that buying generic, type-in style domain names is a great business practice and that those who've done this for years are intelligent visionaries, not cyber-squatters.