Update – 2012-02-29: I placed the translator widget on my site for a few months. Today I found out the widget is broken. But the site is still up and I still consider it pretty handy. Sorry if you tried to use it here and it didn't work. I hate sites that don't work and have now removed the widget from my site.
I had the opportunity today to discuss how a word translates into several languages today. It got me thinking… Is there a service that translates a single word into several languages at once? This would be a popular tool over the next several months since many new TLD applicants will want to see what their applied-for string looks like or how it is spelled in various worldwide languages.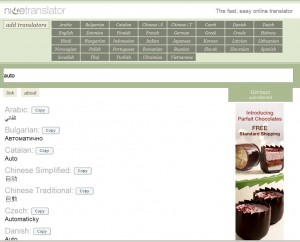 I found something pretty cool and it's free… It's called Nice Translator (.com). A couple of university students took some time out of their schedule and came up with the perfect tool. I also have their plugin on my sidebar. I love it!
When you arrive at the site, you 1.) click on the "Add Translators" button at the top and then, 2.) begin clicking on the various languages you wish to see translations for. Once you've added all the language buttons you desire, you 3.) click "done".
Now, you can type in the word or phrase string that you are wanting translated and you will be presented with a neat list of the word or phrase you typed in translated into as many as thirty-seven languages around the world including many that use other-than-Latin scripts such as Greek or Chinese.
This tool can be handy to allow potential applicants to decide between various options. For example, if an applicant is interested in getting an automobile related TLD, .auto will translate much more widely around the globe than .car.
Take a look at the results:
Besides Portuguese (carro), ".car" translates very differently in all languages whereas .auto translates exact in spelling or closely in the following languages:
Catalan
Czech (automaticky)
Danish
Dutch
English
Estonian
Finnish
French
German
Greek
Hungarian (Automatikus)
Italian
Indonesian
Latvian (Automatiska)
Lithuanian
Norwegian
Polish (Automatycznie)
Portuguese (Automático)
Romanian
Slovak
Spanish (Automatico) &
Swedish
Other languages like Russian and Turkish are also not too far off but further than I'd think is comfortable.
The main point is that, thanks to these two young web programmers (and Google or Bing) a tool exists that can give you a cursory look at how your considered .string will translate in many languages at once.
Disclaimer: I make no warranties or claims about the accuracy about this referred site. I just thought it was handy and pretty cool and I've never seen a free service like this before. There are a lot of ways domain name professionals could use this tool.