Although there are many ideas being floated about what new Top Level Domains can be created.  There may not be enough articles explicitly showing what cannot be created because they already exist or are reserved names that won't be able to be issued because of the rules.  Amongst the many rules put forth by ICANN for new TLDs, one of the most basic ones is that a new top level domain must not be the same as an existing top level domain (or even too similar).
I've seen several different figures about how many top level domains exist today. My count from perusing ICANN's site is 284.  But then there are at least 34 "reserved names" which means that any new registry will have to prevent at least these 34 strings from being issued. I don't think you'll be seeing anyone getting these strings to the right of the dot as well.  That means that in their most basic forms, there are at least 318 existing strings that you will surely not be able to get as a new top level domain.
An interesting (hypothetical) example could be GM.  General Motors is not going to be able to get GM.COM (that is assuming they want a new TLD and they have not publicly indicated that they do; I'm just using this as an example).  .GM is already allocated to the country of Gambia.  Now that doesn't mean GM can't pay the government of Gambia to let them use .GM.  Many ccTLDs are already being used for reasons different than their original intent because of agreements with governments (e.g. .tv, .fm, .me…).  Since GM's gross revenues are 30 times that of Gambia's GDP, it would seem that they could to cut a deal if both parties wanted to. Who knows?  Maybe it would be cheaper for them that way :-). But GM is not getting .GM any other way.
On top of the stated problem, new TLDs have to be at least 3 letters in length.  (Note: The longest they can be is 63 characters and they cannot include numbers). So maybe they can get .GMC?
Even that could be problematic since it is very close to .GM.  Only time will tell how these things will go.  For a while, a company that contracted with ICANN had a TLD string analyzer online where they claimed you could get some idea of how close two strings of characters were and if they were too close to be considered using an algorithm they developed.  Unfortunately, as of this writing, the web page hasn't worked for several weeks and I'm not sure if it ever will.  This was the address.  Hopefully it will begin to work again soon: http://icann.sword-group.com/algorithm/Default.aspx
So that all said, below is my list of the TLDs that are "already taken" and that will have to be considered in any application made.
I apologize to my ICANN associates if some of this seems elementary, but condensed lists like this are helpful to me and, I think, to others that don't dwell in this industry on a day-to-day basis.
Feel free to use this list to match up against your ideas.  Remember that this is not an official listing; just my personal research.  I list these here just for convenience. I apologize and take no responsibility for any errors or omissions:
EXISTING/ |   TYPE  |   COUNTRY
RESERVED  |  TLD     |   REPRESENTED (IF APPLICABLE)
.COM        Generic
.INFO        Generic
.NET        Generic
.ORG        Generic
.BIZ        Generic-Restricted
.NAME        Generic-Restricted
.PRO        Generic-Restricted
.AERO        Sponsored
.ASIA        Sponsored
.CAT        Sponsored
.COOP        Sponsored
.EDU        Sponsored
.GOV        Sponsored
.INT        Sponsored
.JOBS        Sponsored
.MIL        Sponsored
.MOBI        Sponsored
.MUSEUM        Sponsored
.TEL        Sponsored
.TRAVEL        Sponsored
.ARPA        Infrastructure
.AC        Country-Code    Ascension Island
.AD        Country-Code    Andorra
.AE        Country-Code    United Arab Emirates
.AF        Country-Code    Afghanistan
.AG        Country-Code    Antigua and Barbuda
.AI        Country-Code    Anguilla
.AL        Country-Code    Albania
.AM        Country-Code    Armenia
.AN        Country-Code    Netherlands Antilles
.AO        Country-Code    Angola
.AQ        Country-Code    Antarctica
.AR        Country-Code    Argentina
.AS        Country-Code    American Samoa AS Domain Registry
.AT        Country-Code    Austria
.AU        Country-Code    Australia
.AW        Country-Code    Aruba
.AX        Country-Code    Aland Islands
.AZ        Country-Code    Azerbaijan
.BA        Country-Code    Bosnia and Herzegovina
.BB        Country-Code    Barbados
.BD        Country-Code    Bangladesh
.BE        Country-Code    Belgium
.BF        Country-Code    Burkina Faso
.BG        Country-Code    Bulgaria
.BH        Country-Code    Bahrain
.BI        Country-Code    Burundi
.BJ        Country-Code    Benin
.BL        Country-Code    Saint Barthelemy
.BM        Country-Code    Bermuda
.BN        Country-Code    Brunei Darussalam
.BO        Country-Code    Bolivia
.BR        Country-Code    Brazil
.BS        Country-Code    Bahamas
.BT        Country-Code    Bhutan
.BV        Country-Code    Bouvet Island
.BW        Country-Code    Botswana
.BY        Country-Code    Belarus
.BZ        Country-Code    Belize
.CA        Country-Code    Canada
.CC        Country-Code    Cocos (Keeling) Islands
.CD        Country-Code    Congo, The Democratic Republic of the
.CF        Country-Code    Central African Republic
.CG        Country-Code    Congo
.CH        Country-Code    Switzerland
.CI        Country-Code    Cote d'Ivoire
.CK        Country-Code    Cook Islands
.CL        Country-Code    Chile
.CM        Country-Code    Cameroon
.CN        Country-Code    China
.CO        Country-Code    Colombia
.CR        Country-Code    Costa Rica
.CU        Country-Code    Cuba
.CV        Country-Code    Cape Verde
.CX        Country-Code    Christmas Island
.CY        Country-Code    Cyprus
.CZ        Country-Code    Czech Republic
.DE        Country-Code    Germany
.DJ        Country-Code    Djibouti
.DK        Country-Code    Denmark
.DM        Country-Code    Dominica
.DO        Country-Code    Dominican Republic
.DZ        Country-Code    Algeria
.EC        Country-Code    Ecuador
.EE        Country-Code    Estonia
.EG        Country-Code    Egypt
.EH        Country-Code    Western Sahara
.ER        Country-Code    Eritrea
.ES        Country-Code    Spain
.ET        Country-Code    Ethiopia
.EU        Country-Code    European Union
.FI        Country-Code    Finland
.FJ        Country-Code    Fiji
.FK        Country-Code    Falkland Islands (Malvinas)
.FM        Country-Code    Micronesia, Federated States of
.FO        Country-Code    Faroe Islands
.FR        Country-Code    France
.GA        Country-Code    Gabon
.GB        Country-Code    United Kingdom
.GD        Country-Code    Grenada
.GE        Country-Code    Georgia
.GF        Country-Code    French Guiana
.GG        Country-Code    Guernsey
.GH        Country-Code    Ghana
.GI        Country-Code    Gibraltar
.GL        Country-Code    Greenland
.GM        Country-Code    Gambia
.GN        Country-Code    Guinea
.GP        Country-Code    Guadeloupe
.GQ        Country-Code    Equatorial Guinea
.GR        Country-Code    Greece
.GS        Country-Code    South Georgia and the South Sandwich Islands
.GT        Country-Code    Guatemala
.GU        Country-Code    Guam
.GW        Country-Code    Guinea
.GY        Country-Code    Guyana
.HK        Country-Code    Hong Kong
.HM        Country-Code    Heard Island and McDonald Islands
.HN        Country-Code    Honduras
.HR        Country-Code    Croatia
.HT        Country-Code    Haiti
.HU        Country-Code    Hungary
.ID        Country-Code    Indonesia
.IE        Country-Code    Ireland
.IL        Country-Code    Israel
.IM        Country-Code    Isle of Man
.IN        Country-Code    India
.IO        Country-Code    British Indian Ocean Territory
.IQ        Country-Code    Iraq
.IR        Country-Code    Iran, Islamic Republic of
.IS        Country-Code    Iceland
.IT        Country-Code    Italy
.JE        Country-Code    Jersey
.JM        Country-Code    Jamaica
.JO        Country-Code    Jordan
.JP        Country-Code    Japan
.KE        Country-Code    Kenya
.KG        Country-Code    Kyrgyzstan
.KH        Country-Code    Cambodia
.KI        Country-Code    Kiribati
.KM        Country-Code    Comoros
.KN        Country-Code    Saint Kitts and Nevis
.KP        Country-Code    Korea, Democratic People's Republic of
.KR        Country-Code    Korea, Republic of
.KW        Country-Code    Kuwait
.KY        Country-Code    Cayman Islands
.KZ        Country-Code    Kazakhstan
.LA        Country-Code    Lao People's Democratic Republic
.LB        Country-Code    Lebanon
.LC        Country-Code    Saint Lucia
.LI        Country-Code    Liechtenstein
.LK        Country-Code    Sri Lanka
.LR        Country-Code    Liberia
.LS        Country-Code    Lesotho
.LT        Country-Code    Lithuania
.LU        Country-Code    Luxembourg
.LV        Country-Code    Latvia
.LY        Country-Code    Libyan Arab Jamahiriya
.MA        Country-Code    Morocco
.MC        Country-Code    Monaco
.MD        Country-Code    Moldova, Republic of
.ME        Country-Code    Montenegro
.MF        Country-Code    Saint Martin
.MG        Country-Code    Madagascar
.MH        Country-Code    Marshall Islands
.MK        Country-Code    Macedonia, The Former Yugoslav Republic of
.ML        Country-Code    Mali
.MM        Country-Code    Myanmar
.MN        Country-Code    Mongolia
.MO        Country-Code    Macao
.MP        Country-Code    Northern Mariana Islands
.MQ        Country-Code    Martinique
.MR        Country-Code    Mauritania
.MS        Country-Code    Montserrat
.MT        Country-Code    Malta
.MU        Country-Code    Mauritius
.MV        Country-Code    Maldives
.MW        Country-Code    Malawi
.MX        Country-Code    Mexico
.MY        Country-Code    Malaysia
.MZ        Country-Code    Mozambique
.NA        Country-Code    Namibia
.NC        Country-Code    New Caledonia
.NE        Country-Code    Niger
.NF        Country-Code    Norfolk Island
.NG        Country-Code    Nigeria
.NI        Country-Code    Nicaragua
.NL        Country-Code    Netherlands
.NO        Country-Code    Norway
.NP        Country-Code    Nepal
.NR        Country-Code    Nauru
.NU        Country-Code    Niue
.NZ        Country-Code    New Zealand
.OM        Country-Code    Oman
.PA        Country-Code    Panama
.PE        Country-Code    Peru
.PF        Country-Code    French Polynesia
.PG        Country-Code    Papua New Guinea
.PH        Country-Code    Philippines
.PK        Country-Code    Pakistan
.PL        Country-Code    Poland
.PM        Country-Code    Saint Pierre and Miquelon
.PN        Country-Code    Pitcairn
.PR        Country-Code    Puerto Rico
.PS        Country-Code    Palestinian Territory, Occupied
.PT        Country-Code    Portugal
.PW        Country-Code    Palau
.PY        Country-Code    Paraguay
.QA        Country-Code    Qatar
.RE        Country-Code    Reunion
.RO        Country-Code    Romania
.RS        Country-Code    Serbia
.RU        Country-Code    Russian Federation
.RW        Country-Code    Rwanda
.SA        Country-Code    Saudi Arabia
.SB        Country-Code    Solomon Islands
.SC        Country-Code    Seychelles
.SD        Country-Code    Sudan
.SE        Country-Code    Sweden
.SG        Country-Code    Singapore
.SH        Country-Code    Saint Helena
.SI        Country-Code    Slovenia
.SJ        Country-Code    Svalbard and Jan Mayen
.SK        Country-Code    Slovakia
.SL        Country-Code    Sierra Leone
.SM        Country-Code    San Marino
.SN        Country-Code    Senegal
.SO        Country-Code    Somalia
.SR        Country-Code    Suriname
.ST        Country-Code    Sao Tome and Principe
.SU        Country-Code    Soviet Union (being phased out)
.SV        Country-Code    El Salvador
.SY        Country-Code    Syrian Arab Republic
.SZ        Country-Code    Swaziland
.TC        Country-Code    Turks and Caicos Islands
.TD        Country-Code    Chad
.TF        Country-Code    French Southern Territories
.TG        Country-Code    Togo
.TH        Country-Code    Thailand
.TJ        Country-Code    Tajikistan
.TK        Country-Code    Tokelau
.TL        Country-Code    Timor
.TM        Country-Code    Turkmenistan
.TN        Country-Code    Tunisia
.TO        Country-Code    Tonga
.TP        Country-Code    Portuguese Timor (being phased out)
.TR        Country-Code    Turkey
.TT        Country-Code    Trinidad and Tobago
.TV        Country-Code    Tuvalu
.TW        Country-Code    Taiwan
.TZ        Country-Code    Tanzania, United Republic of
.UA        Country-Code    Ukraine
.UG        Country-Code    Uganda
.UK        Country-Code    United Kingdom
.UM        Country-Code    United States Minor Outlying Islands
.US        Country-Code    United States
.UY        Country-Code    Uruguay
.UZ        Country-Code    Uzbekistan
.VA        Country-Code    Holy See (Vatican City State)
.VC        Country-Code    Saint Vincent and the Grenadines
.VE        Country-Code    Venezuela, Bolivarian Republic of
.VG        Country-Code    Virgin Islands, British
.VI        Country-Code    Virgin Islands, U.S.
.VN        Country-Code    Viet Nam
.VU        Country-Code    Vanuatu
.WF        Country-Code    Wallis and Futuna
.WS        Country-Code    Samoa
.YE        Country-Code    Yemen
.YT        Country-Code    Mayotte
.YU        Country-Code    Yugoslavia (being phased out)
.ZA        Country-Code    South Africa
.ZM        Country-Code    Zambia
.ZW        Country-Code    Zimbabwe
(IDNs represented as ".IDNTLD"; see ICANN site for actual representations). They look like these: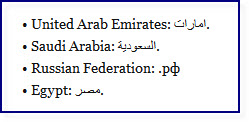 .IDNTLD-Ar-Arab    Test Test:Ar-Arab
.IDNTLD-EL-Grek    Test Test:El-Grek
.IDNTLD-FA-Arab    Test Test:Fa-Arab
.IDNTLD-Hi-Deva    Test Test:Hi-Deva
.IDNTLD-JA-Kana    Test Test:Ja-Kana
.IDNTLD-KO-Hang    Test Test:Ko-Hang
.IDNTLD-RU-Cyrl    Test Test:Ru-Cyrl
.IDNTLD-TA-Taml    Test Test:Ta-Taml
.IDNTLD-YI-Hebr    Test Test:Yi-Hebr
.IDNTLD-ZH-Hans    Test Test:Zh-Hans
.IDNTLD-ZH-Hant    Test Test:Zh-Hant
AFRINIC        Reserved Name
ALAC        Reserved Name
APNIC        Reserved Name
ARIN        Reserved Name
ASO        Reserved Name
CCNSO        Reserved Name
EXAMPLE*    Reserved Name *Including various translations of "example"
GAC        Reserved Name
GNSO        Reserved Name
GTLD-SERVERS    Reserved Name
IAB        Reserved Name
IANA        Reserved Name
IANA-SERVERS    Reserved Name
ICANN        Reserved Name
IESG        Reserved Name
IETF        Reserved Name
INTERNIC    Reserved Name
INVALID        Reserved Name
IRTF        Reserved Name
ISTF        Reserved Name
LACNIC        Reserved Name
LOCAL        Reserved Name
LOCALHOST    Reserved Name
NIC        Reserved Name
NRO        Reserved Name
RFC-EDITOR    Reserved Name
RIPE        Reserved Name
ROOT-SERVERS    Reserved Name
RSSAC        Reserved Name
SSAC        Reserved Name
TEST*        Reserved Name *Including various translations of "test"
TLD        Reserved Name
WHOIS        Reserved Name
WWW        Reserved Name
Sources at time of writing:
https://www.cia.gov/library/publications/the-world-factbook/geos/ga.html
http://finance.yahoo.com/q/ks?s=gm
http://www.icann.org