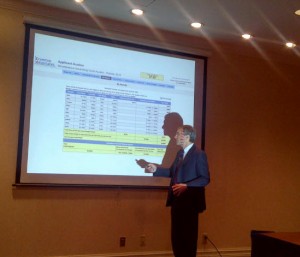 Note/Update: (I have no affiliation with Cramton Associates and do not mean in any way to discount other auction providers offering services. Please feel free to send me links if you provide similar services; I'll post them here.)
I attended Cramton Associates Application Auction Workshop at the Novatel Hotel on Esplenade
This is a very important workshop that all applicants who are in contention should attend.  Peter Cramton has done auctions for wireless spectrum worldwide as well as in many other industries.
There are a ton of issues to consider in auctions like this that are not so obvious.  I was greatly awakened at the workshop and want to encourage ANYONE who has an application in contention for a new TLD to attend.
There is value for both large and small applicants. Mr. Cramton actually did mock auctions in the domain space using real examples and compensated college students in a clinical environment to simulate the domain auctions
He went over a process they've developed based on their extensive experience in high-stake, global, public auctions.  They are developing a model that consists of Auction Design, Auction Consultation, a Mock Auction, and then the Actual Auction
I came away from this workshop feeling that any applicant in contention who does not at least consider this program would have to be foolhardy (sorry; it just makes so much sense).
About the Workshop
http://www.cramton.umd.edu/aa/applicant-auction-workshop.pdf
Workshop Schedule
Monday
11:00 AM to 12:30 PM
1:30 PM to 3:00 PM
3:30 PM to 5:00 PM
Tuesday
9:00 AM to 10:30 AM
11:00 AM to 12:30 PM
1:30 PM to 3:00 PM
3:30 PM to 5:00 PM
About Cramton Associates
Peter Crampton – Chairman since 1990s
World leader in design and implementation of high stake auction markets
High stakes: assets valued at tens of billions of dollars
Global enterprises in US, Canada, UK Australia, Germany
Many industries including wireless spectrum, diamonds, etc.