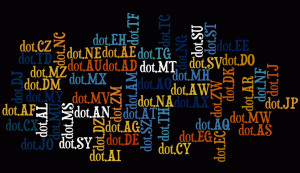 If you read the industry press about domain names and ICANN it's easy to assume that the entire industry is all about new gTLDs. There are articles upon articles about new TLD applicants, the process, the programs, the progress, and more. But there is a lot more to our industry. Besides .com and the other sponsored and generic TLDs, there are already 252+- ccTLDs that often go unrecognized (not including IDNs).
Do ccTLDs Still Matter?
The answer is definitely, yes they do. Here are six reasons why.
1.) .Com Is Taken – The .com domain has been "mined" to the hilt. People can argue about the "availability" within .com but it can't be argued that the number of sensible keywords and names under .com are very depleted. .Com will likely always remain the world's most popular single gTLD but there are plenty more opportunities for growth within the ccTLDs.
2.) They Are Here And They Are Now. – ccTLDs are available now! Many ccTLD operators are opening up and freeing their registries to more and more registrants. They are also improving their technology and connecting with registrars around the world. There is no vaporware in established ccTLDs.
3.) They Matter To People Within Their Countries – People are patriotic by nature. They love their countries. They intuitively understand what their ccTLDs mean and they often prefer to visit and use websites that use their localized ccTLDs. In fact, reports suggest that websites using ccTLD domain names are more trusted by constituents of those countries.
4.) They Matter To Brands – Brands want to capitalize on the ccTLD's consumer acceptance within their countries. There is a convenience and gravity that comes with marketing their brands using a country's ccTLD (over .com) within each respective country. More and more brands are beginning to recognize this and moving their marketing efforts (within each country) to the local ccTLD.
5.) They Matter To Registrars – Products don't move without the support of a good channel and there is no channel like the registrar and domain name reseller channel to grow the success of valuable ccTLDs. Registrars recognize all of the issues above and are more willing than ever to grow their sales base using ccTLDs.
6.) They Can Often Be Re-purposed – Some ccTLD registries have chosen to repurpose their domains with great success. Examples include .tv, .la, .am, and .fm. But there are more ideas just waiting to happen around the world
Please Visit Us At ICANN 45 In Toronto This Week
CentralNic will have a booth at ICANN's 45th meeting in Toronto from October 15th through the 19th. Please come and visit our booth and ask for me.