The Importance of Business Naming – Toyota Introduces 'Let's Go Places'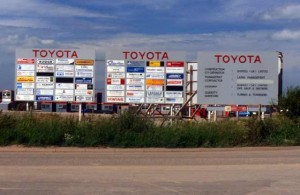 The article didn't state how much, but I suspect that Toyota spent millions of dollars coming up with their new tagline, "Let's Go Places". I'm sure they had focus groups, internal meetings, external meetings, collaborations, and studies galore. If you look at the comments below the article making this announcement (link shown below), it appears that many readers think it's not worth it.
My view is that it is worth it. Business naming is at the very foundation of advertising and promotion.  The lack of planning on behalf of most companies introducing products and new services is surprising. There is an example here… I'm still surprised that in spite of spending millions of dollars coming up with a tag line designed to ring well with hundreds of millions of consumers for the next several years, no one thought of buying the matching domain name (letsgoplaces.com). This domain seems to be registered by a defunct travel agency (at least that was what I was able to determine in a time limited space; I don't care to spend too much time on this). You'da thunk that they would have researched that since they will likely spend many millions more making that phrase famous. I'm sure they could have bought it for as much as they spent on the ad agencies (or likely, much less).
(NOTE/UPDATE 2013… It appears that Toyota now does control the URL, LetsGoPlaces.com. As of October, 2012 that the domain was taken over by Toyota.  There are no reports of the sale / transfer being public.  Hopefully for Toyota, they made this deal before they made the announcement that they spent 6 million dollars coming up with the campaign.  There certainly was no indication that they did when I wrote this article.)
On the other hand, Toyota IS applying for their own new gTLD, .toyota.
So, if they want to, starting next year, they can begin advertising this new tagline as:
"LetsGoPlaces.Toyota"   (They wouldn't need the .com version as badly then and certainly wouldn't want to advertise it once they own .Toyota).
If they do that, they'll be taking advantage of the new Internet paradigm, where big brands will no longer make .com famous and valuable.  That doesn't mean that .com will lose value right away (or maybe they will; no one can predict this).  But at least brand advertising dollars will be focused on their own brands, not brands that end in .com. And that will be good for brands and trademarks.
Or, if they want to, in addition to their new customized tagline domain, they can create a forwarding sub-domain like:
"LetsGoPlaces.Toyota.com"    (forwarded to their new gTLD domain, "letsgoplaces.toyota").
It's going to be fun to see how this plays out. Maybe they're already planning their new gTLD strategy! Here's the article about their new tagline:
Toyota Introduces 'Let's Go Places'

The Toyota brand is changing its U.S. advertising tagline to "Let's Go Places," replacing "Moving Forward," its slogan since 2004, Automotive News reports.

"It is energetic, aspirational, inclusive and very versatile," Bill Fay, Toyota Division general manager, said in a statement…

Toyota worked with advertising partners Saatchi & Saatchi, Dentsu America, Conill, Burrell, Intertrend and Grieco Research to create the tagline.

Read the story… | Source: Ad Age | Date posted: 9/17/2012