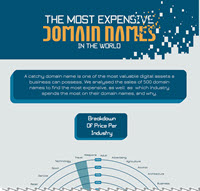 A UK based hosting company, Nimbus Hosting, has released an interesting infographic graphing out the 500 most expensive domain names and broken it out into industry sectors such as travel, sports, and finance. They reported the most expensive domain ever sold as LasVegas.com, which sold for a reported $90 million dollars in 2005. Others included CarInsurance.com and PrivateJet.com which sold for $49.7M and $30.1M respectively.
They also point up several country-code Top Level Domain (ccTLD) Sales such as shopping.de, a German website that sold for $2.8M and Jobs.at, and Austrian site that sold for just under $600,000. Jobs.at, reported to have sold at $600,000 looks to have been bought by a Canadian firm. Many domain buyers from around the world like the .at ccTLD because it is also the English word, "at". That may have been the case here.
It also was interesting because it notes that the peaks for high priced domain names were in 2005 and then again in 2010. I am sure we will see other peaks in the future. I also think there is a more important underlying point that is missed here. Being part of the business, I am very sure that these largest sales amounts, in aggregate, are dwarfed by the many more sales made in smaller ranges. Every day, private domain registrants along with companies like Sedo.com, Afternic.com, Godaddy.com, BuyDomains.com, and DomainMarket.com are selling domains at prices that average $2500 for the most. A lot of sales and money is being made in this range. It will be much more interesting to see some of the larger domain name aftermarket players team up to show that value.
mostexpensive
Although this infographic is a fun graphical representation of large domain sales, there are some typos that I found. They report Internet.com as having been sold for $180,000,000. I know that's a mistake. They probably meant $18M. Also, they report jobs.at as being sold for $600,00. I'm quite sure they meant $600,000.
All in all, it's a pretty useful thing to see the industry representation values. I enjoyed it and hope you will too.