I'm happy to see an ad in the LA Times Calendar Section today featuring four new gTLDs (in one ad).  The headline of the ad was the website, Vegas.buzz. It has a really nice logo and is memorable.  I looked up who owned the domain name.  It is Howard Lefkowitz, who is the former CEO of Vegas.com, now the founder of 1 Degree World, an entertainment and travel booking engine.  That's encouraging.  I love seeing people with expertise in travel and entertainment using new gTLDs like this.  It appears that his company will be using their booking engine on a number of sites such as www.vegas.buzz and vegas.ninja.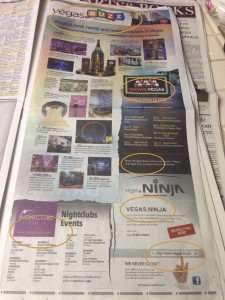 I suppose that the .vegas registry partnered or cooperated with them on the ad offering content at nightclubs.vegas and shows.vegas. The domains appear in the ad but seem to still be owned by the registry (probably awaiting an auction or premium buyer).
All of the sites use the 1 Degree World booking engine with various color themes.  There are some subtle differences.  Vegas.buzz focuses mostly on several shows while vegas.ninja solicits "Ninjas" to offer their content and ideas to the site; seems like a good idea to me.
I'm not sure if I should think of this ad as an ad for a Las Vegas travel website or as an ad for new gTLDs.  Any layperson will obviously think of it as an ad for a Vegas website but the question of which website to visit is certainly there.  I suppose people will visit the one that stands out to them the most.  If they are interested in nightclubs, they'll probably have a bias to visit nightclubs.vegas first.  If they just want the latest news, I suppose they'll be drawn to vegas.buzz.  Note that Buzz.vegas is still held by the registry and forwards to vegas.com; that seems a little self-defeating considering they've spent some money on this ad and it's likely that at least some will remember buzz.vegas instead of vegas.buzz.  I suppose we will need a few years to fully understand all of the ways that new gTLDs will pan out and how to cover ourselves for traffic leakage.
In any event, I'm happy to begin seeing some new gTLDs sites doing advertising in the wild. I'm also very excited about the new variety of choices people have in domain names.  I don't think we've even seen the beginning of how these will end up being used.  Creativity should be in abundance over time.