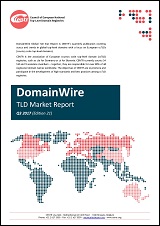 The Council of European National Top-Level Domain Registries recently released its DomainWire Global TLD Report. The results are interesting and include the following in summary:
.info grew over 10%; the fastest growing of the top 15 largest gTLDs year over year
ccTLDs had a growth rate of 2.8% year over year
Legacy gTLDs had a growth rate of 0.2% year over year
New gTLDs had a growth rate of -7.2%
The fastest growing European ccTLDs (in the top 10) are .ca, .fr, .ch, and .it.
ccTLDs average market share in Europe is 54%
In absolute terms, .com grew the most with 1.9 million domains added in the past 12 months
I've been convinced that ccTLDs will grow quickly for some time.  This report confirms that.  They have been in existence for a long time and are now becoming more recognized and important.  Most Internet businesses are local in nature and that is where much of the growth is happening online today. There's little reason for a local retailer, plumber, or dentist to use a global domain if all they need to attract are local clients. When a local business uses a ccTLD, they are also implying to their potential clients that they are part of the community.
(Disclosure) Since I work for Afilias, I was happy to see that .info was one of the fastest growing.  We much be doing something right.
ABOUT CENTR
CENTR is the association of European country code top-level domain (ccTLD) registries, such as .de for Germany or .si for Slovenia. CENTR currently counts 54 full and 9 associate members – together, they are responsible for over 80% of all registered domain names worldwide. The objectives of CENTR are to promote and participate in the development of high standards and best practices among ccTLD registries.
Download the report (PDF)… | Source: CENTR.org | Date posted: 12/12/2017